Why not to buy Soul Calibur V
True, it's a good weapon-based beat 'em up. But Soul Calibur V has just pulled off the stupidest PR stunt in some time...
Posted by 
PsiMonk
 02 February 2012 07:30:50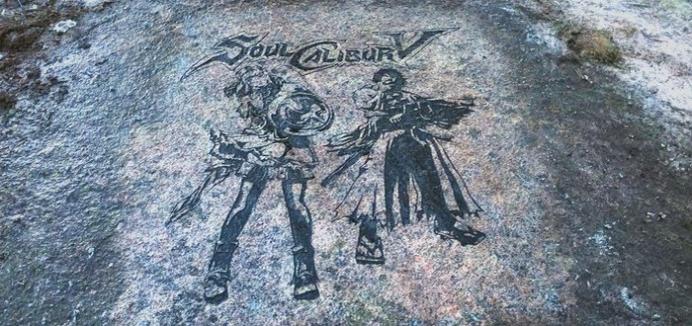 Soul Calibur V is by all accounts a good update on the melee-weapon fighting series. If you want to know why to buy it, clicky
here
. But Soul Calibur V is also apparently being promoted with a series of ever-more stupid PR stunts that make the game look, frankly, a bit desperate. And the latest one is the worst in quite some time (see below for some even more offensive ones). So here's why not to buy it.
Firstly,  there was the announcement that GYMBOX, a fitness centre in Westfield, London, was to get a Soul Calibur V-themed "swordsman" workout. With gamers turning up with a copy of the game having membership fees waived. Secondly, there was the announcement that Soul Calibur V was getting some graffiti art, showing its new cover star Ezio (from Assassin's Creed) across a regular (and often sponsored) graffiti spot in Shoreditch, London. Now...
Now, Namco Bandai have apparently paid to have Soul Calibur V and two of its characters permanently etched into a mountain in Tanum, Sweden as the "world's hardest" videogame characters. The site, run by company
SavedInStone
, is proudly proclaimed to be "close to a UNESCO World Heritage Site filled with Bronze Age stone carvings." I can't think of much more distasteful as a games PR stunt than sticking a fairly good fighting game's characters permanently on a mountain side near some genuine Bronze Age stone carvings. SavedInStone say their philosophy is to "
Identify what is really worth saving, then save it in the only future-proof format we know of
."
Here, they're saving two characters from a middle-ground fighting game for thousands of years. Is this really the pinnacle of human communication, worthy to be saved for eternity? And is it really a good idea to stick them next to some Bronze Age carvings? I can think of other games I'd like to leave for future generations to play again, to see the artistry, the emotion, the point of interactive entertainment as it was now. But Soul Calibur V? Hardly. The game doesn't even really have the "hardest" fighting characters around!
In my opinion, this is nearly up there (although not quite), with Sony offering up goat entrails to journalists to promote God Of War 2, the makers of Burnout 2 offering to pay people's speeding tickets and the makers of Shadow Man 2 sponsoring gravestones (and not forgetting Capcom's severed limbs discarded across London Resident Evil 5 jape).
One word for these kinds of promotional stunts 'PATHETIC'. It's borderline sacrilegious to etch carvings like this in to stone within spitting distance of bronze age carvings. What are we saying to our ancestors 2000+ years from now, basically that we'd sell our grandmother's teeth for a quick buck. It also tells them we have no taste & that basically we're kn*bs.
SIMON MUNK
Simon Munk has been playing videogames since 1976. He has written on games and technology for over fifteen years for titles including MSN, The Times and FHM. He has won the GamesMediaAwards for Consumer Magazine Writer twice. Simon's favourite game ever is Gauntlet.
Blog Archive